Zelinium Farm Automation Software
Farm management software can provide a means of meeting all of your business requirements under one unified system. Farm operations have many facets to control, such as tracking financials, proper upkeep of their operating equipment, and ensuring their product hits the market on time.
COMPREHENSIVE DIGITAL FARMING PLATFORM AT YOUR FINGER TIPS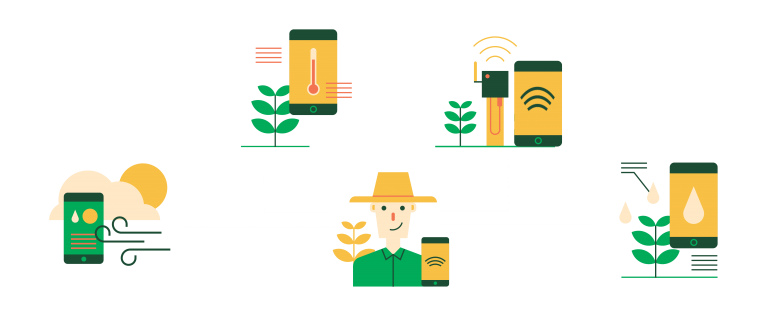 Farm Automation software can help small, medium, and large farms, including cooperatives to assess profitability in real-time at the farm, field, zone, and greenhouse levels, apart from producing various crop health metrics. Forecasts are compared with actuals for consumables, inventory, crops, vehicles, and implement assets to reduce yield variability.
Farming: Create operational plans by scheduling all farm activities. Monitor weather and moisture levels and any risks associated with staying on schedule. Reduce the use of pesticide applications and eliminate spray mistakes or skipped rows. Start by creating a profile consisting of the map, location, farm, fields, zones, structures, calendar, satellite model, device, sensor, plant recipes, monitoring devices, and sensors. 
Marketing:  Divide the market into specific segments to target customers with specific campaigns. Create and manage sales catalogs for different growing seasons and markets.   Plan events to promote products for higher visibility.  The system also helps in setting goals with respect to the market.

CRM: Manage all the relationships and interactions with potential and current customers. This helps stay connected to customers, streamline business processes and improve profitability. Track the customer lifecycle through the Contact, Lead, Opportunity, and Customer stages. 
Sales: Manage agricultural contracts for all involved business partners. Create and agree upon contract terms prior to execution and settlement. Improve your farm record-keeping for expenses related to specific deals, consolidate settlements, make amendments, and manage risk.
Purchase: Manage vendor master, vendor registration process, procurement approval, credit period management, receiving process incl. recording of vendor payables, GST credits, payments to vendors.
HCM: Hire to retire cycle – planning, recruiting, onboarding, compensation management, maintain employee master, payroll, regulatory calculations, payments, liabilities, and employee exits
Quality: Sample your farm soil for improved topographic information and make better decisions. Learn how your inputs move through your soil based on the physical and chemical characterization. Get a better understanding of soil texture, compaction, root zone depth, and moisture retention. Manage the complete nutritional profile of your soil for optimal soil fertility. Establish boundaries to sample via grid sampling or zone sampling.
Project: Handle the complete agriculture project lifecycle from initiation, farm design, execution through to crop production phases. Improve project planning, scheduling, collaboration, risk management and budget management with integrated project management 
Budgeting: Helps you allocate budgets for various activities, track the actuals against budgets – allowing you to have a real-time view of adherence to budget allocations, enables periodical reviews. Allows any revisions to budgets to keep them realistic and SMART.
Accounting: Track expenditure, income, assets, and liabilities. direct costs, such as inventory costs towards purchases of raw materials and consumables such as seeds, fertilizers, chemicals, etc., Indirect costs like repairs and maintenance, insurance, etc. Accounting also enables tracking of the performance of each part of the business by providing profitability statements through different slices and dices which can be customized to suit your needs.
Inventory: Track and manage on-site and off-site inventory of all raw materials involved in the production process. Includes crop seeds, fertilizers, pesticides, fuel, harvested crops, and more. Organize inventory for the day's work or the entire season. Track maintenance of equipment via work orders to know when proper preventive work needs to be completed.
Fleet: Manage the vehicle fleet by storing all the important information like vehicle type, maintenance, routes, and performance. Tracking vehicle movement is a crucial aspect of farm produce traceability for ensuring the quality and freshness of the produce is maintained throughout. 

Download And Discover The World Of Digital Farming